UV LED Flatbed Printer Manufacturers Price
Product introduce
Wuhan HAE UV Flatbed Printer can print excellent images on various rigid medias, such as glass, acrylic, wood, Pvc Foam Board, KT board, MDF, alunimum, cellphone case, ceramic tiles, and so on. Its printing size is 1600x1100mm. Except CMYK, customer could choose white color and Varnish
Wuhan HAE UV flatbed Printer adopt Toshiba printing head with warranty is 2 years!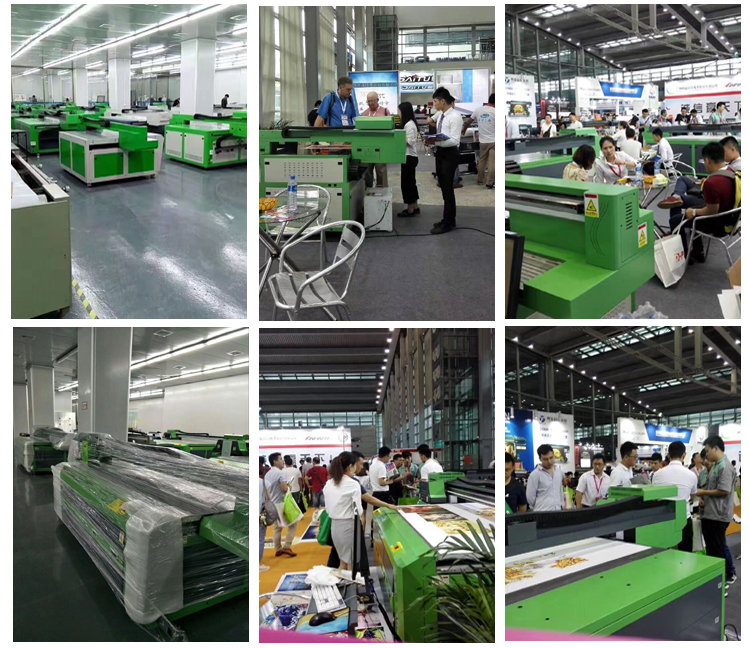 Technical Parameters
Item Code

HAE-1610UV

Working Area

1000mmx1600mm

Printing Head

TOSHIBA E4M

Printing Head Number

4pcs-8pcs

Ink color

C,M,Y,K,LC,LM,W,Varnish

Printing Product Height

Printing Resolution

1-100mm(1-10cm)

300 x300dpi 300x 600dpi 600x 600dpi

600x 900dpi 600x 1200dpi 900x 1200dpi

Solidity System

LED UV Solidity System

File Format

TIFF/ JEG/ PNG/ BMP

Ink supply system

Negative pressure ink supply system

Printing Speed

High Speed

27m28/h(6+2pcs printing head)

Middle Speed

18m28/h(6+2pcs printing head)

Low Speed

13m2/h(6+2pcs printing head)

Communication Interface

High speed 3.0 communication interface

Operation System

Windows7 64bit

Power Supply

AC220V P2500

Temperature /humidity

Temperature: 20-30 degree Humidity 40-60%

Size

Weight

3500mmx 1700mmx 1300mm

900Kg

Certificate

CE ROHS SGS FCE
APPLICATION


Advertising industry: ABS, Polyurethane, PET, Acrylic, MDF, PVC, etc. for signs, banner, backlight, tags, etc.
Leather industry: Authentic leather, fake leather, PU, etc. for shoes, bags, cases, etc.
Background wall: Glass, tiles, aluminum, wood, paper, etc.
Furniture industry: Wood, glass etc. for cupboard, sofa, doors, etc.
Electronic accessories: Mobile phone cases, industrial products cases, etc.
Gifts printing: Plastics, USB memory card, Stone, Pens, name card case, glass arms, wrist watch belt, wrist bands, etc.
Decoration: Exhibition stand decoration, home decoration, wallpaper, hotel decoration, etc.
Industrial printing: membrane switch, touch panel, home appliance printing, etc.
FEATURE
1. Advanced ink supply shortage alarm system, ink tank indicator lights on when ink are lower than one third of the capacity.
2. Constant temperature control, avoid external temperature interference while printing.
3. Use wave print technology to avoid the banding and pass line more effectively than traditional printing mode.
4. Supply ink with constant pressure, smoothing ink supply system.
5. Sectional platform vacuuming, inlet volume controlling for different media makes it easier and more efficient.
6. Utilize imported high quality super mute linear guide rails, high stability and precision.
7. Imported servo motors are being applied in XYZ axis, X axis use switchable optical grating and embedded encoder, Y axis use smart double belt positioning, all to ensure mechanical accuracy and long duration.

Printing Sample