FFP2 Fold-flat disposable Respirator manufactured by Ankelin

• Protects against fine, toxic dusts, fumes, and oil- and water-based mists
• In Chinese PPE Export Whitelist
• Preformed nose clip removes need for regular adjustment
• Low profile helps increase the field of vision
• CE 2834 Certification
• Low Breathing Resistance for extra comfort: Flow Rate≥95 L/Min
• Real FFP2 Standard: Test agent in (≤3μm) DOP, Penetration≤6%
• Non-metallic, ideal for metal-free areas
• Latex-free to reduce risk to associated allergies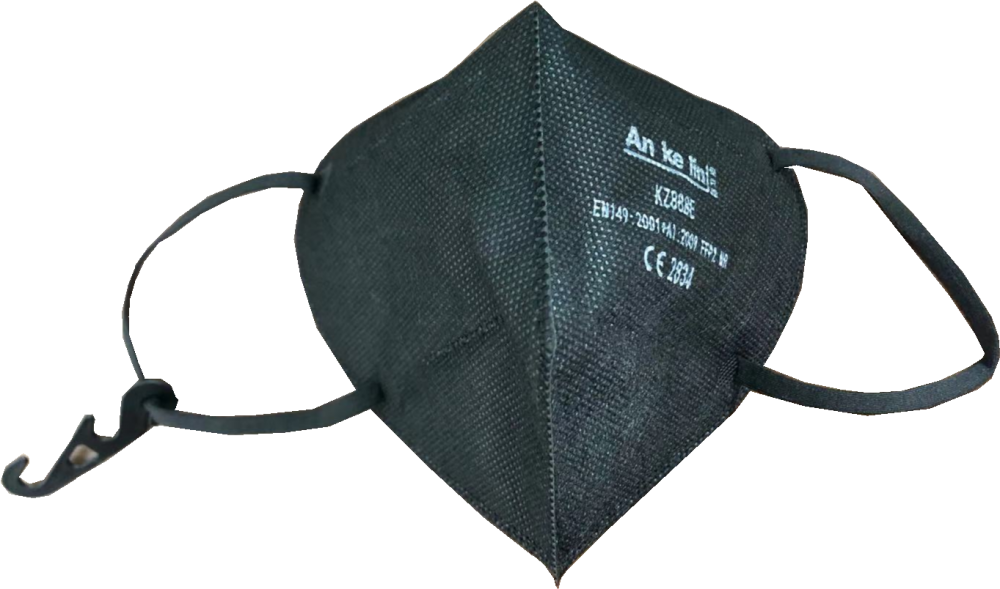 Product Name: Particle Filtering Half Mask
Model: KZ888E
Material: Non-woven 50%+Melt-Blown 50%
CE FFP2 approved by CCQS
Non Woven Melt Blown Fabric
5-Layer 94% filtration
Compact fold flat design
Adjustable nose clip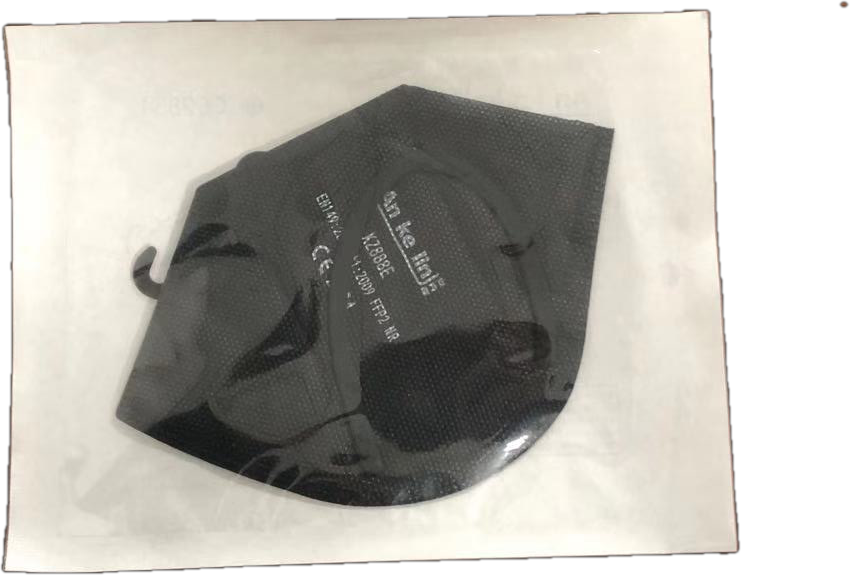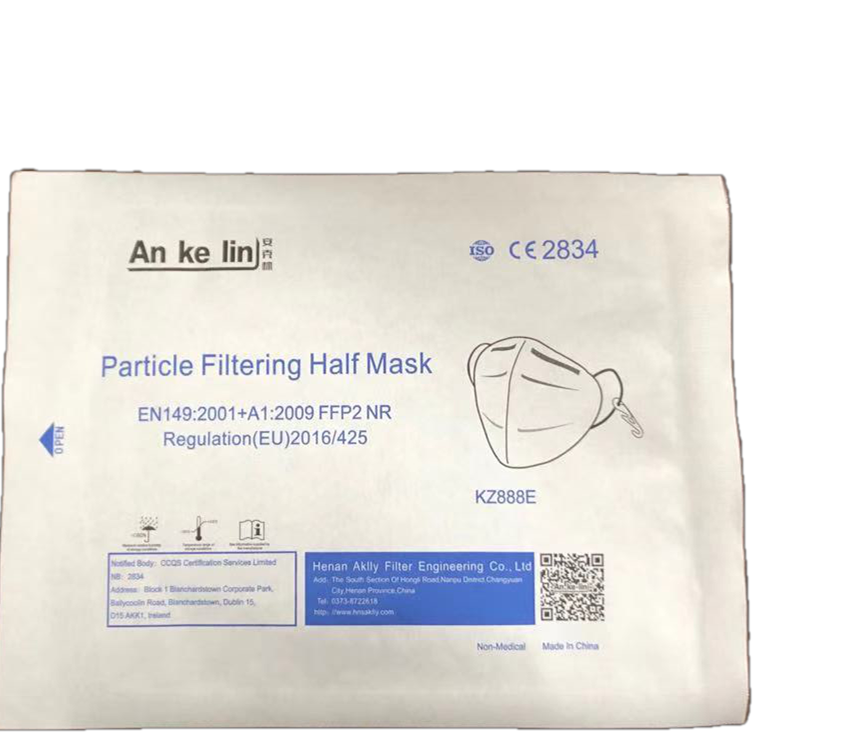 Box size: 195*150*85mm
Carton Size: 610*420*370mm
Packing: 25pcs/box, 800pcs/carton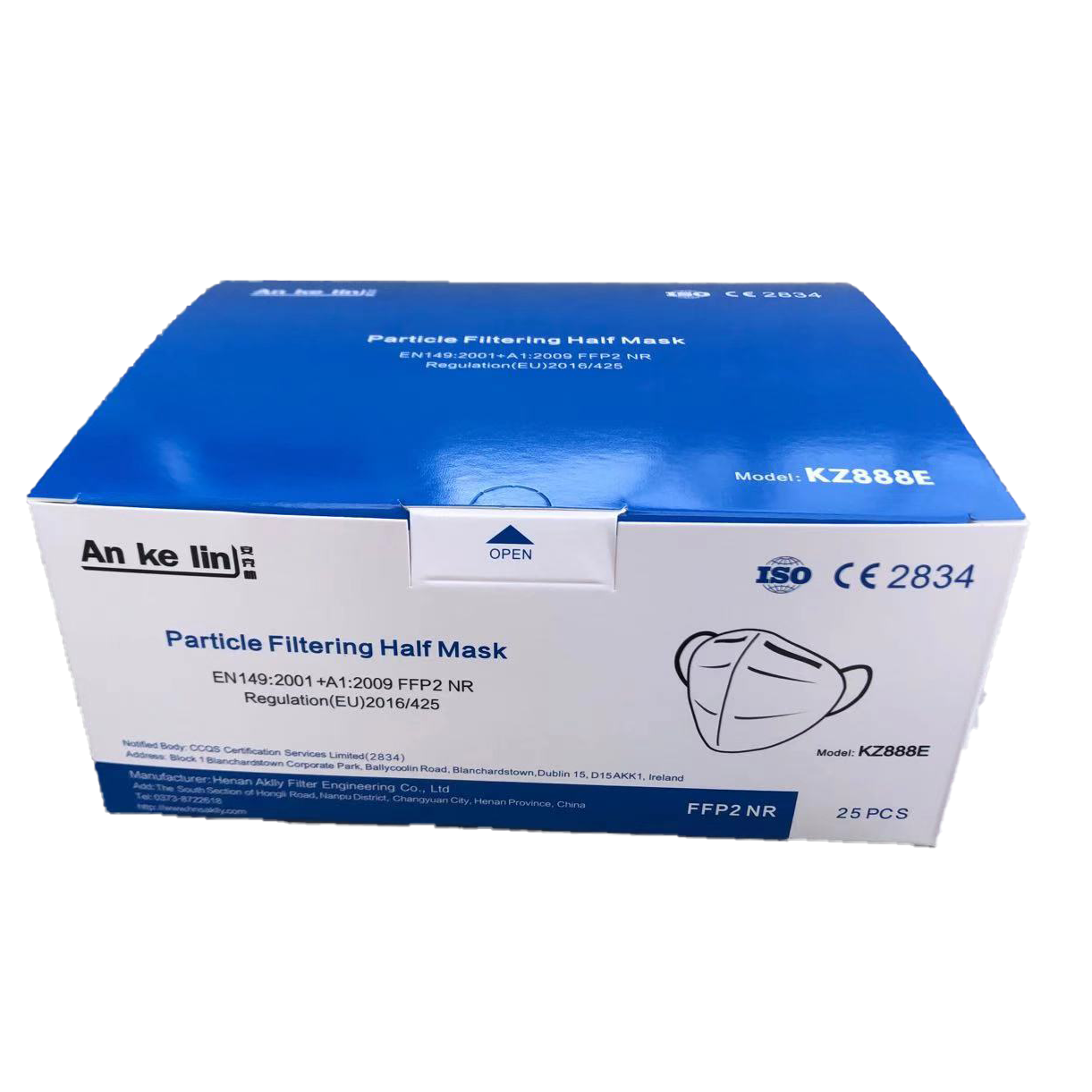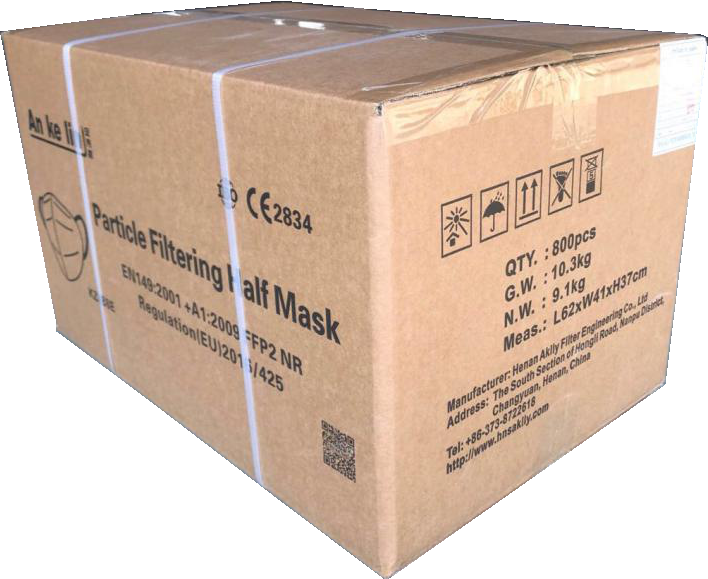 Warning:
1. It is recommended to replace it every 4 hours. Do not wash it with water and do not reuse it.
2. Do not use this respirator when concentrations of contaminants are immediately dangerous to life or health.
3. Leave the contaminated area immediately if breathing becomes difficult, or dizziness or other distress occurs.
4. Discard and replace the respirator if it becomes damaged or breathing resistance becomes excessive.
5. Inspect the respirator before each use to ensure it is in good working condition. Examine all the respirator parts for signs of damage including the two straps and nose clip.
6. Do not alter, wash, abuse or misuse this respirator.
7. Do not use with beards or other facial hair or other conditions that prevent a good seal between the face and the sealing edge of the respirator.
8. Failure to follow all instructions and warnings on the use of this respirator and/or failure to wear this respirator during all times of exposure can reduce respirator effectiveness and may result in illness.
9. Make sure the respirator is not crushed or squeezed by an outside force, as this may result in the deformation and damage of the respirator. Especially pay more attention when the wearer is biking, running or conducting other activities.
10. Children under 3 are not recommended.
Packing & Shipping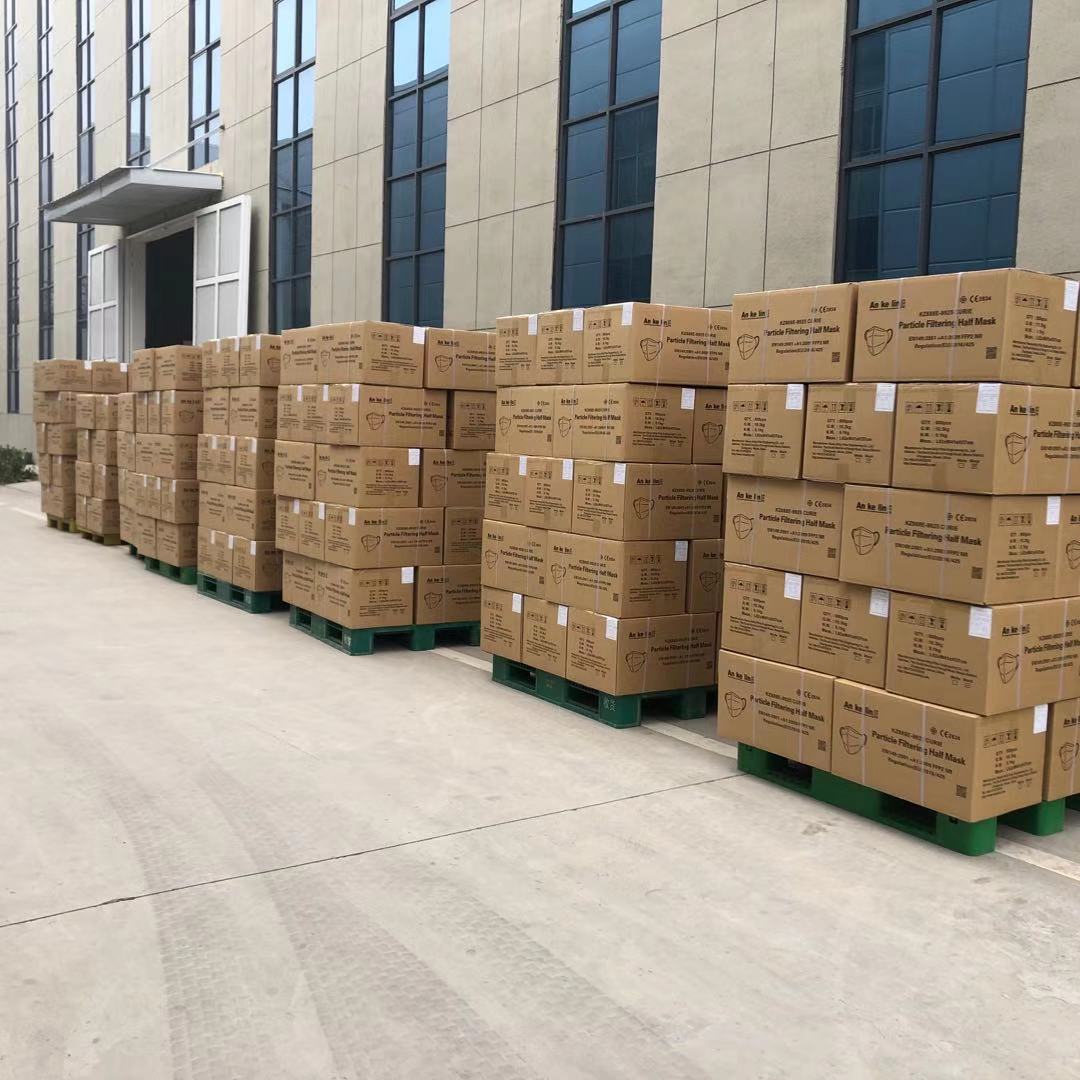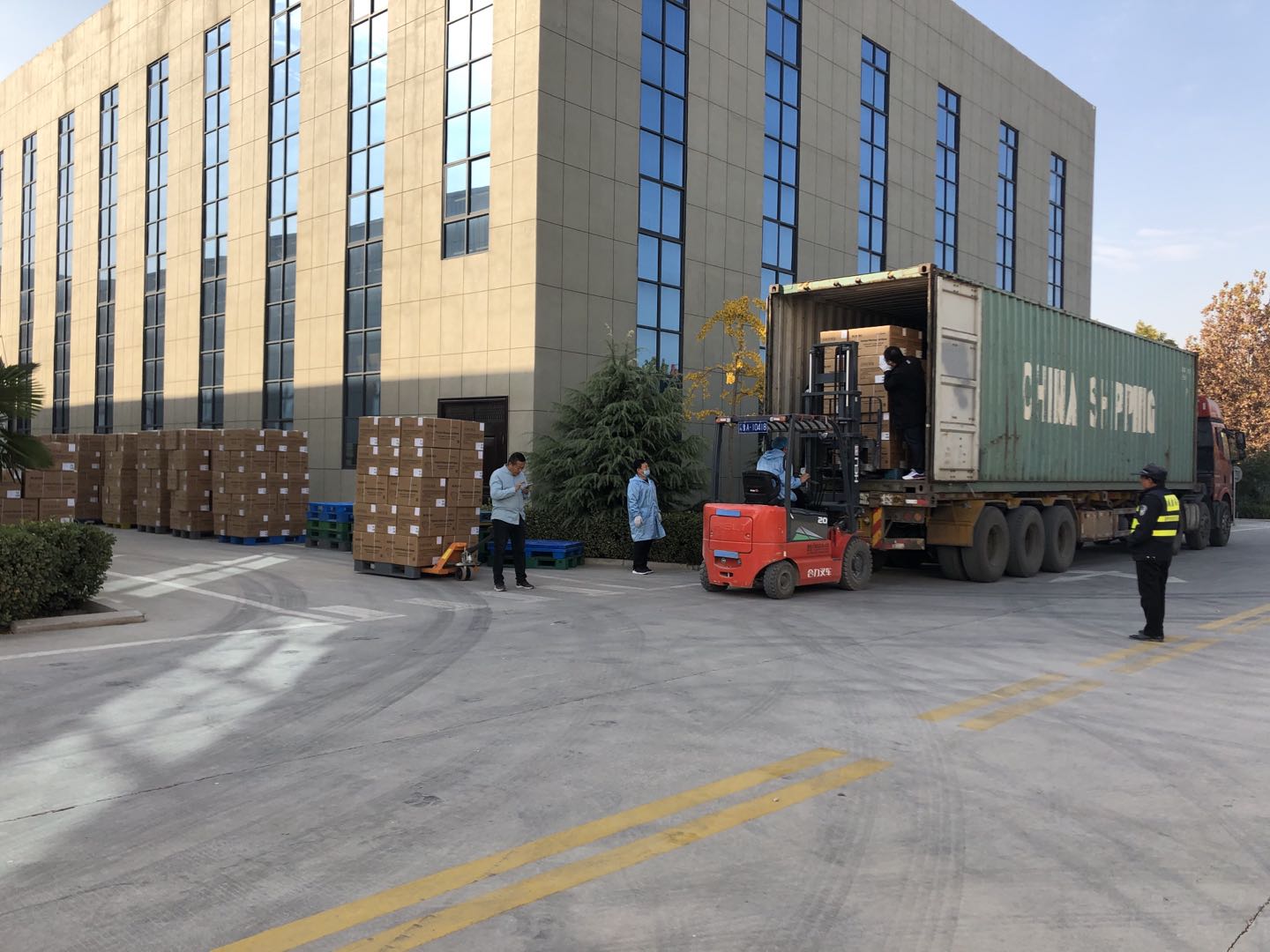 Certification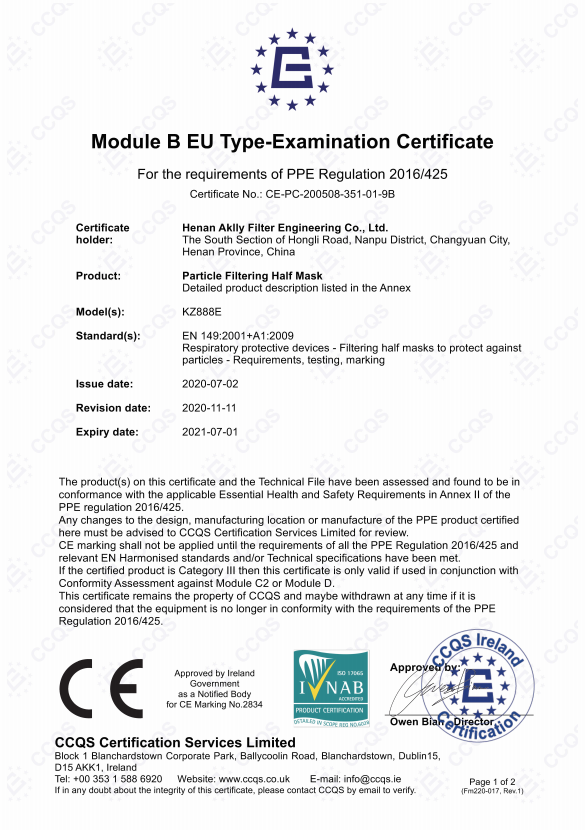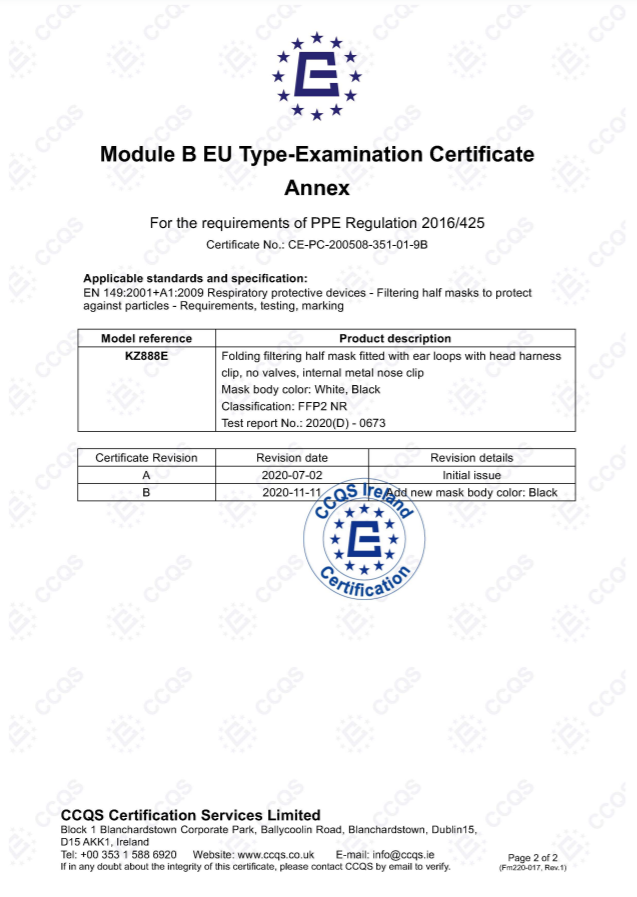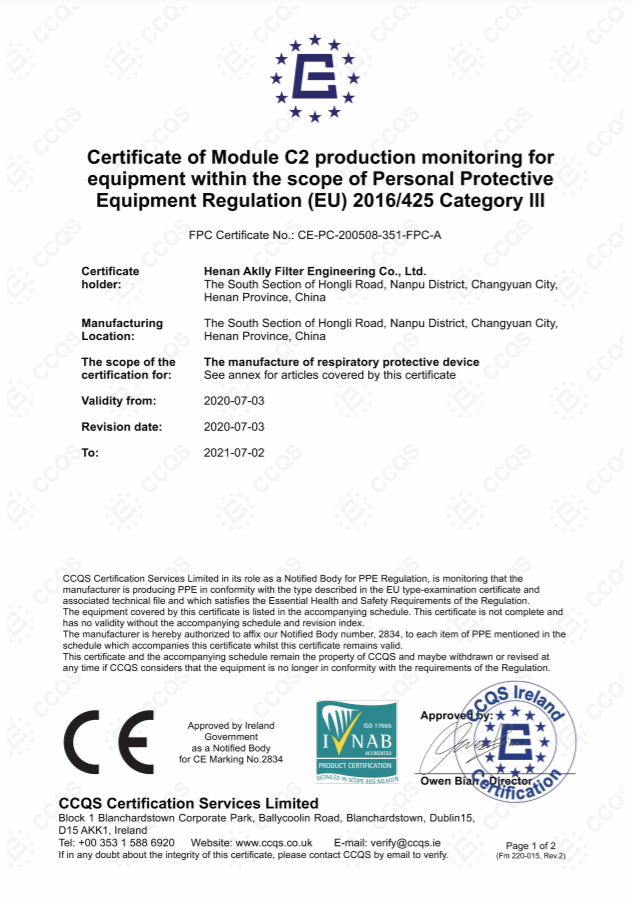 Company Information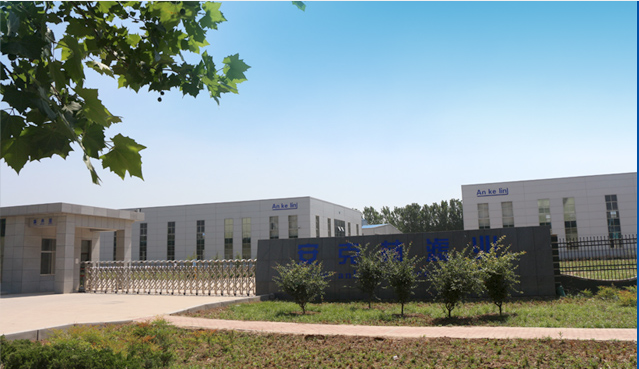 Henan Aklly Filter Engineering Co.,Ltd is a high-tech enterprise specializing in the production of protective masks, Melt-Blown Non-Woven Fabrics, Air Filters and Filter Materials. The company is headquartered in the South Section Of Hongli Road, Nanpu District, Changyuan City, Henan Province, China. It covers an area of more than 45,000 square meters and has total assets of 100 million yuan. The company has introduced fully automated production lines, testing equipment and production technology from the USA, Germany, Italy, and Japan.
The Protective Masks have passed the European CE certification EN149, the United States EUA authorization, South Korea KF94 certification and China GB2626-2006 standard, and the daily production capacity of masks can reach 2 million. In addition, the company has passed ISO9001 quality management system certification; ISO14001 environmental management system certification; GB28001 occupational health and safety management system certification.  
Products are widely used in personal respiratory protection, medical and health, Bio-pharmaceuticals, food industry, automotive industry, rail transit, electronics industry, Photo-voltaic industry, residential air purification, etc.
We will adhere to the business philosophy of "Quality Brand, Integrity and Innovation" in the development process, and try our best to meet customer's needs with excellent product quality and satisfactory after-sales service. We sincerely welcome new and old customers to visit, exchange and negotiate, seek common development, and join hands in creating a better tomorrow!